Caperucita del Salobral
– Little Red Riding Hood of
El Salobral
— Lucía Ríos
Mres Art: Theory and Philosophy Year 2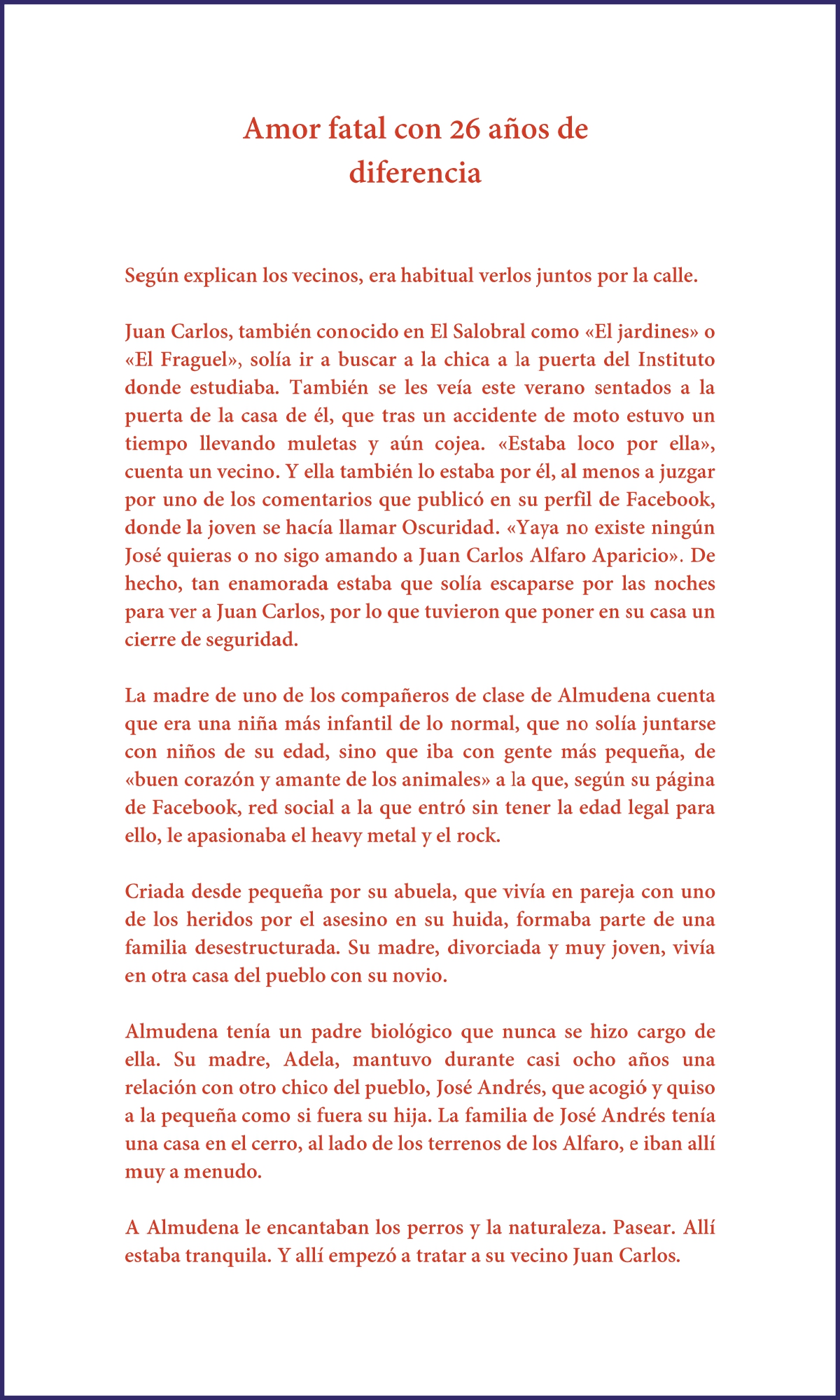 1.
Intro

En 2012 un hombre de 39 años asesinó en El Salobral a una joven de 13 con quien había mantenido una relación sentimental, para después suicidarse. La historia fue presentada en algunos medios como un crimen pasional, el climax de un "amor prohibido".

Este relato de re-escritura experimental utiliza como únicas fuentes cuatro artículos publicados sobre este caso en algunos de los medios españoles más importantes. Sin alterar las palabras de los textos originales, reorganiza y combina sus párrafos generando una narración sin fisuras ni interrupciones que presenta inquietantes paralelismos con el cuento de Caperucita Roja en forma y fondo. El proyecto es una reflexión sobre los roles y recursos narrativos tradicionales que aún están presentes en discursos tan aparentemente distantes como el periodístico e invita a la reflexión sobre su influencia en la percepción romantizada de problemas sociales estructurales.


Estos son los artículos originales:
ABC
La Razón
El
País
Ondacero
2.
Amor fatal con 26 años de diferencia

Según explican los vecinos, era habitual verlos juntos por la calle.

Juan Carlos, también conocido en El Salobral como «El jardines» o «El Fraguel», solía ir a buscar a la chica a la puerta del Instituto donde estudiaba. También se les veía este verano sentados a la puerta de la casa de él, que tras un accidente de moto estuvo un tiempo llevando muletas y aún cojea. «Estaba loco por ella», cuenta un vecino. Y ella también lo estaba por él, al menos a juzgar por uno de los comentarios que publicó en su perfil de Facebook, donde la joven se hacía llamar Oscuridad. «Yaya no existe ningún José quieras o no sigo amando a Juan Carlos Alfaro Aparicio». De hecho, tan enamorada estaba que solía escaparse por las noches para ver a Juan Carlos, por lo que tuvieron que poner en su casa un cierre de seguridad.

La madre de uno de los compañeros de clase de Almudena cuenta que era una niña más infantil de lo normal, que no solía juntarse con niños de su edad, sino que iba con gente más pequeña, de «buen corazón y amante de los animales» a la que, según su página de Facebook, red social a la que entró sin tener la edad legal para ello, le apasionaba el heavy metal y el rock.

Criada desde pequeña por su abuela, que vivía en pareja con uno de los heridos por el asesino en su huida, formaba parte de una familia desestructurada. Su madre, divorciada y muy joven, vivía en otra casa del pueblo con su novio.

Almudena tenía un padre biológico que nunca se hizo cargo de ella. Su madre, Adela, mantuvo durante casi ocho años una relación con otro chico del pueblo, José Andrés, que acogió y quiso a la pequeña como si fuera su hija. La familia de José Andrés tenía una casa en el cerro, al lado de los terrenos de los Alfaro, e iban allí muy a menudo.

A Almudena le encantaban los perros y la naturaleza. Pasear. Allí estaba tranquila. Y allí empezó a tratar a su vecino Juan Carlos.

Al principio empezaron a compartir aficiones. A escuchar música, rock y heavy metal, a hablar, a dar paseos. Almudena, una niña cariñosa pero solitaria, tenía 11 años cuando empezó a pasar más tiempo con él.

La familia de Almudena creyó desde el principio que su relación con Juan Carlos era patológica, enferma, desigual. Una historia que no debía ser. Una aberración. La abuela de la niña, Francisca, había tenido, además, una mala experiencia con su primer marido y padre de sus hijos, al que conoció también siendo adolescente. La niña vivía ahora con ella y con su marido. La madre, Adela, residía en El Pasico, una aldea mínima entre El Salobral y Aguas Nuevas, junto a su nueva pareja. Ni la madre ni la abuela pensaban permitir, de ninguna manera, que la relación continuara.

La familia de Juan Carlos pensaba también que no era lo mejor para su hijo, pero no se opusieron con la misma intensidad. Lo consideraban inevitable. Decían que los dos "querían estar juntos" y que él estaba "loco por ella".

«Uno nunca sabe lo que el destino te tiene reservado», dijo Almudena. «Por eso hay que ir con cuidado en la vida nieta consejo de abu». De nada sirvió la advertencia de su abuela.

«Antes de que me acusen de pederasta, la monto. Hago una masacre». Es una confidencia de Juan Carlos Alfaro Aparicio a un amigo suyo, menor de edad, dos días antes de que saliera de «caza» y matara en el acto a Almudena Márquez, de 13 años.

Había sido una mala semana. El martes, la madre de Almudena, Adela Márquez, lo paró en la calle: «Hijo de puta, te tengo que matar, desgraciado», lo insultó delante de varios testigos. Y a continuación la emprendió a puntapiés con su coche Daewoo y le abolló la puerta trasera izquierda. Juan Carlos denunció a la madre en el puesto de la Guardia Civil de Aguas Nuevas y contó que la mujer no quería que su hija estuviera con él.

Adela acudió a la Guardia Civil en febrero de este año por primera vez. Allí mostró su preocupación por el noviazgo consentido por la niña; explicó que no sabía si su hija mantenía relaciones sexuales con Alfaro, y negó que él la acosara o la obligara.

El 18 de abril de 2012 la cría firma en el despacho de un abogado un escrito de cuatro párrafos que, digamos, era como un salvoconducto para Alfaro.

Esto es lo que firmó esta cría, guiada por su supuesto enamorado: "Almudena Márquez, de trece años, vecina de El Salobral, Albacete… declara que mantiene una relación sentimental con don Juan Carlos Alfaro, mayor de edad, que es consciente de la diferencia de edad existente entre ellos".

Como la familia de la cría seguía denunciando el caso, la hizo firmar otro papel, esta vez manuscrito, que ha aparecido tras el crimen.

La niña escribió de su puño y letra: "Yo, Almudena Márquez, de 13 años, consiento de manera voluntaria en mantener relaciones sexuales con Juan Carlos Alfaro".

Sí podía hacerse algo y la única que podía era la niña, Almudena. Y lo hizo.

Tomó la decisión de dejar a Juan Carlos, y rechazó todos sus intentos por volver.

El diario de la niña muestra cómo el tipo la acosaba desde entonces, daba regalos a compañeros suyos de clase para que la espiaran y fueran luego a informarle, le decía textualmente que era una puta, como tu madre, y en varias ocasiones saltó la valla del instituto donde estudiaba para presionarla.

El pasado lunes 15, un día antes del episodio del coche con Adela Márquez, otro vecino del pueblo, Arturo Mas, también denunció a Juan Carlos Alfaro. Contó a los agentes que este había insultado a su hija Ana Belén, una amiga de Almudena, porque se negaba a hacer de recadera y a celestinear para el novio despechado. La llamó «payasa, idiota y desgraciada». Esa chica, una de sus mejores amigas, era la que acompañaba a la víctima la noche en la que su exnovio acabó con ella porque lo había abandonado.

Ana Belén relató más tarde que el agresor paró su coche junto a ellas y pidió a la víctima que subiera. La cría se negó y ya no hubo más palabras: solo los disparos que acabaron con su vida en el acto. A ella, a Ana Belén, la que cumplía los deseos de su amiga, la dejó marchar.

«Él se sintió traicionado por la niña. Por eso la mató», concluye el psiquiatra forense. «Se unieron un cúmulo de circunstancias. Creía que le traicionaba por alinearse con la posición de la madre, que llevaba meses acosándolo y recriminándole la relación. Y seguramente pensó que haría el ridículo si Almudena salía con un chico de su edad. No lo soportó».

FIN
1.
Intro
In 2012, a 39-year-old man murdered in the Spanish village of El Salobral a 13-year-old girl with whom he had a relationship in the past. He then committed suicide. The story was portrayed in some media as a "passion crime", the climax of a "forbidden love" gone wrong.


This experimental re-writing narration uses as only sources four articles on this case published by some of the biggest Spanish newspapers. Without altering the words from the original texts, it reorganizes and combines its paragraphs generating an uninterrupted, solid narration which presents disturbing resemblances with the story of Little Red Riding Hood in form and content. The project is a reflection on the traditional roles and narrative resources which are still present in discourses as apparently distant as journalism; it is an invitation to consider their influence on the romantic perception of structural social problems.

These are the original articles:
ABC
La Razón
El
País
Ondacero
2.
Fatal love with 26 years of difference
As the neighbours explain, it was normal to see them together on the streets.

Juan Carlos, also known in El Salobral as "El jardines" or "El Fraguel", used to pick up the girl at the entrance of the high school where she studied. You could also see them last summer sitting by the door of his house; after a motorbike accident he had to use crutches for some time and he still has a limp.
"He was crazy for her", says a neighbour. And so was she for him, at least judging from the comments that she published in her Facebook profile, where the young girl had the nickname of Darkness. "Nana, there is no José; whether you like it or not, I still love Juan Carlos Alfaro Aparicio". She was so in love that she would run away during the nights to see Juan Carlos, to the point that they had to install a security lock at her house.

One of Almudena's classmates' mother tells how Almudena was a childish girl for her age, how she wouldn't hang with her peers, but with younger children; a girl with "a good heart who loved animals" and who, according to her Facebook page, a social network that she joined before having the legal age to do so, was passionate about heavy metal and rock music.

Raised by her grandmother, who lived with her partner, one of the injured by the murderer in his flight, she was part of a disjointed family. Her mother, divorced and very young, lived in a different house of the village with her boyfriend.

Almudena had a natural father that never took care of her. Her mother, Adela, had a relationship with a man from the village, José Andrés, for almost eight years, and he adopted and loved the child as if she was his daughter. José Andrés' family had a house on the hill, next to Alfaro's land, and they went there often.

Almudena loved dogs and nature. Going for walks. She was at ease there. And there, she started her involvement with her neighbour, Juan Carlos.

At first, they shared hobbies. They listened to music, rock and heavy metal, talked and walked together. Almudena, an affectionate yet solitary girl was 11 when she started spending time with him.

Almudena's family thought from the beginning that her relationship with Juan Carlos was pathological, sick, uneven. A story that should not be. An aberration. The girl's grandmother, Francisca, had had a bad experience with her first husband and father of her children whom she met when she was a teenager. The girl lived now with her and her husband. The mother, Adela, lived in El Pasico, a tiny village between El Salobral and Aguas Nuevas. Neither the mother nor the grandmother were in any way going to allow the relationship to develop.

Juan Carlos' family also thought this was not the best for their son, but they didn't oppose with the same intensity. They regarded it as inevitable. They said that they both "wanted to be together" and he was "crazy for her".

"One never knows what fate has reserved for him" said Almudena. "That's why one needs to be careful in life, child, grandma's advice". Her grandmother's advice amounted to nothing.

"Before they accuse me of being a pederast, I'll blow things up. I'll make a massacre". This is a confession that Juan Carlos Alfaro Aparicio made to an underaged friend two days before he went "hunting" and killed 13-year-old Almudena Marquez.

It had been a bad week. On Tuesday, Almudena's mother, Adela Marquez, stopped him on the street: "Son of a bitch, I'm going to kill you, bastard", she insulted them in front of some witnesses. She followed by kicking his Daewoo car, damaging the left rear door. Juan Carlos denounced the mother to the Guardia Civil of Aguas Nuevas and told them that the woman didn't want her daughter to be with him.

Adela visited the Guardia Civil for the first time on February this year. She expressed her concern for the consensual relationship of the girl: she explained that she didn't know if her daughter was having sexual relations with Alfaro and denied that he was stalking or forcing her.

On the 18th of April 2012, the girl signs at a lawyer's bureau a document written in four paragraphs that was supposed to be, so to say, a salvoconductofor Alfaro.

This is what the child signed, guided by her alleged lover: "Almudena Márquez, 13 years old, a citizen of El Salobral, declares that she is in a romantic relationship with Mr. Juan Carlos Alfaro, an adult who is aware of the age difference between them".

Since the girl's family insisted in denouncing the case, he made her sign a different document, this one hand-written, that appeared after the crime was committed.

The child wrote herself: "I, Almudena Márquez, of 13 years of age, consent willingly to maintain sexual relations with Juan Carlos Alfaro".

If there was anything that could be done, Almudena herself was the only one who could do it. And she did.

She made the decision of leaving Juan Carlos and rejected all his attempts to go back together.

The girl's diary shows how the man stalked her ever since, giving presents as a bribe to her classmates so they would spy on her and tell him afterwards. He would literally say that she was a whore, just like her mother, and he jumped the high school's gate on several occasions to pressurize her.

Last Monday 15th, a day before the car incident that involved Adela Márquez, another man of the village, Arturo Mas, also denounced Juan Carlos Alfaro. He told the officers that Juan Carlos had assaulted his daughter Ana Belén, Almudena's friend, because she refused to serve as a go-between and message carrier for the hurt boyfriend. He called her a "clown, an idiot and a swine". This girl, one of her best friends, was with the victim on the night that her ex-boyfriend killed her because she had abandoned him.

Ana Belén would later say that the aggressor stopped his car by their side and asked the victim to jump inside. The girl said no and there were no more words: just two shots that ended her life on the spot. He let Ana Belén go.

"He felt betrayed by the girl, that's why he killed her" concludes the forensic psychiatrist. "A series of circumstances happened. He thought that she was betraying him in joining her mother's position, who had been harassing and reprimanding him because of the relationship for months. And, surely, he thought that he would look ridiculous if Almudena started dating a boy her age. He couldn't take it."

THE END
... rewriting and image courtesy
of Lucía Río

...rewriting and image courtesy of Lucía Ríos